Hong Kong International Culinary Classic @ HOFEX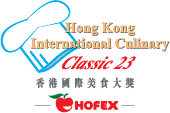 Tremendously grown in the past decade, Hong Kong International Culinary Classic (HKICC) proudly held its another successful edition in 2021. Endorsed by the Worldchefs – World Association of Chef's Societies (WACs) and co-organised by the Hong Kong Chefs Associations (HKCA), HKICC will return to HOFEX from 10 – 12 May 2023 where the best and brightest convene to show mastery in culinary arts. It's time to spread your influence and cultivate the younger generations of your industry!
We provide various sponsorship opportunities for you to network with industry professionals. Please contact us at [email protected] for more details.
Competition Details
Individual :

Western Cuisine
Chinese Cuisine
Pastry

Team :
*The deadline for registration is 8 March 2023 (Wednesday)
Sponsorship Opportunities
Throughout the 3-day contest, 500+ chefs will be using these sponsored products to accomplish their dishes! Sponsor now so your products can be spotted by our audience in every angle possible!
Sponsor category:
Cooking Equipment Sponsor
Bakery Equipment Sponsor
Ingredients Sponsor
Plates, Cutlery, Glass Sponsor
Judges Souvenir Sponsor
Contacts
Event Secretary:
Mastermind Events Limited
Unit 2501, 25/F., Billion Trade Centre, 31 Hung To Road, Kwun Tong, Kowloon, Hong Kong
Sponsorship:
Informa Markets
1701-05, 17/F, China Resources Building, 26 Harbour Road, Wan Chai, Hong Kong
Organising Committee
Chairman
Mr Rudolf Muller, Managing Director, Angliss Hong Kong Food Service Limited
Members
Mr Andreas Muller, Programme Director (International Cuisine), International Culinary Institute
Ms Anita Cheng, CEO, Ultrafuture Limited
Mr Daniel Menezes, President, Hong Kong Chefs Association
Mr Danny Ho, Member, Hong Kong Bakery And Confectionery Association
Ms Janice Lee, Event Director, Informa Markets Asia Limited
Mr Ricky Kong, Area Chinese Culinary Director, Royal Plaza Hotel
Mr Ringo Chan, Executive Pastry Chef, Four Seasons Hotel Hong Kong
Mr William Ma, Chairman, Hong Kong Chinese Chefs Association
Mr Hui Mei Tak, Chairman, Kwan Sang Catering Professional Employees Association
Mr Lee Man Sing, Member, Hong Kong Chefs Association